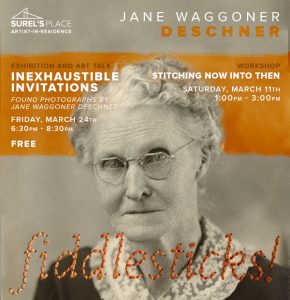 Artist Jane Waggoner Deschner will be the artist in residence at Surel's Place the month of March. Deschner hand embroiders quotations from obituaries into found photographs, also known as vernacular photographs. Deschner will be teaching this process in a workshop at Surel's Place on March 11, 2017 and exhibiting her current project on Friday, March 24th. After seeing what she creates with this fusion, she expects you will never look at your own family photos the same way again.
People may be most familiar with vernacular snapshot collections through such books as "Awkard Family Photos," but Deschner's art appeals to something deeper than surface humor. She says of her project that "when I integrate a found photo and a stranger's words, I tease out a common humanity not confined by time, place or circumstance. I explore our shared human condition to better understand my own."
Deschner sees a natural connection between obituaries and snapshots. "The obituaries published in local newspapers are written by the those who knew and loved the deceased. The writer often includes an anecdote or two to help the reader connect: 'He enjoyed a good meal and truthful conversation.' 'She accomplished all of her dreams.' Snapshots and studio portraits are taken out of love to remember people, places and events. Embroidery is a decorative technique, and, when done, stitch-by-stitch by hand, a devotional act."
Although originally from Kansas, Deschner has lived in the Rocky Mountain West for many years and will be coming to Surel's Place from Billings, Montana. She notes that being a contemporary visual artist separated from cultural hubs by such vast distances presents challenges. She is looking forward to the opportunity to live and continue her work in Boise, perhaps sourcing text from obituaries in local papers for her new work, and getting to the know the art community here.
---
PUBLIC EVENTS
WORKSHOP
STITCHING NOW INTO THEN
Saturday, March 11, 1:00-3:00pm
limited to 8
  |  $10 Registration Fee
registration required: www.surelsplace.eventbrite.com
scholarships available: info@surelsplace.org
at Surel's Place
212 E. 33rd St.
Garden City, ID 83714
EXHIBITION & ART TALK
INEXHAUSTIBLE INVITATIONS: Found Photographs of Jane Deschner
Friday, March 24
doors at 6:30pm, Talk at 7pm
free
The title of Deschner's exhibit "Inexhaustible Invitations" references a quote from Susan Sontag, known for her essays "On Photography" and as an influential critic. Sontag wrote: "Photographs, which cannot themselves explain anything, are inexhaustible invitations to deduction, speculation, and fantasy." Deschner invites the viewer on a path of speculation by creating a relationship between the text and photo. "Hand-embroidering texts into photos intimately unites the two. The photos 'read' the texts and vice versa."
at Surel's Place
212 E. 33rd St.
Garden City, ID 83714