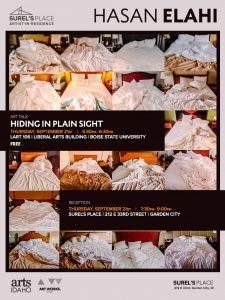 Do you ever feel like you are being watched? This feeling was very real for resident artist Hasan Elahi, when in 2002, an erroneous tip accusing him of terrorist activities led to a six-month investigation by the FBI. Mr. Elahi reacted to this by creating a long-term project. "Tracking Transience," which resulted in him being watched by millions more people on The Colbert Report, as well as CNN, CBS, Al Jazeera, and Fox News. His work throughout the last twenty years has straddled the worlds of art and science, and this life event fused the two. Already he was investigating interactions between public spaces and private information, engaging questions of surveillance, privacy, ownership of information, citizenship, borders, as well as physical and virtual space. Being investigated by the FBI just had him turn that lens on himself.
Mr. Elahi is coming to Boise from Berlin where, he just closed a show at the Museum für Fotografie entitled "Watching You Watching Me." He is also moving his work in a new direction, and plans to use his time at Surel's Place to create a framework for his ideas that he'll develop into works that could appear all over the world in subsequent years.
"I have been thinking about this new body of work on the idea of 'Manifest Destiny,'" explains Mr. Elahi. "It is only appropriate for me to undertake part of my studio practice in the location where many historic American paintings of the western landscape were created." While a resident at Surel's Place, he will be turning the camera on Boise.
He is planning to create a body of photographic and video work on the relationship between landscape and surveillance. He intends to use Boise as a base to re-create historic American landscape paintings from the 19th century, using modern day consumer technologies that have grown out of military developments. He will only be using paintings created before Idaho became a state, as the work will also question what the genre of landscape means today in a political context.
Hasan Elahi's workshop will also be focused on surveillance. Participants will map and interact with surveillance cameras throughout Boise. The workshop will address numerous issues about surveillance including whether the cameras should be hidden or overt, who should have access to what the camera is seeing, and how artists and designers engage with this ever-pervasive element of contemporary life. They won't have to look far from Surel's Place to find a camera- the Boise Whitewater Park Webcam is just down the path.
---
PUBLIC EVENTS
WORKSHOP
WATCHING THE WATCHERS
Saturday, August 26th
1:00pm–3:00pm
$10 Registration Fee | 
Limited to 10
registration required
scholarships available: info@surelsplace.org
at Surel's Place: 212 E. 33rd St. | Garden City, ID 83714
ART TALK & RECEPTION
NOTE EVENT CHANGES BELOW
HIDING IN PLAIN SIGHT
Thursday, September 21st
ART TALK
5:30-6:30PM
BSU's Liberal Arts Building  |  Room LART 106
free
RECEPTION
7:30-9:30PM
at Surel's Place: 212 E. 33rd St. | Garden City, ID 83714
Come back to Surel's Place to visit with Mr. Elahi and enjoy some refreshments.
Surel's Place would like to thank the Idaho Commission on the Arts and the National Endowment for the Arts for their support of this residency.