Designed by Surel and built in 1998, the house is a one-level modern live-work space, filled with art and light.  Virtually all visitors to this space say they feel immediately welcome and at ease; it is a peaceful, quiet, warm space for living and making art.  The home is ADA compliant and, with the home's caretaker a couple of doors away, living at Surel's Place is worry free for residents.
At the front of the house, is a large studio with 15-foot ceilings, a large painting wall, and lots of indirect natural light.  The studio also has a large easel and two work tables, one of which spans eight feet, plus ample storage for materials and work.
The remainder of the house is comfortable living space, with all of the amenities of a fully functional home, including living area, dining area, fully appointed kitchen, half bath (also known as The Red Bathroom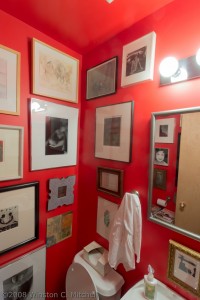 Museum), and laundry room.  The bedroom suite is tucked in behind antique French doors and includes a cozy, peaceful bedroom, bathroom with walk-in shower, and walk-in dressing room/closet.
The home is filled with the art, books, and antiques that Surel collected during her life time.  Many of the paintings are her father's, also an accomplished painter; there are also many fine examples of work by other Boise artists.  In addition, there is a large library of art books that artists may use for
reference and inspiration.
Outside, there are two patios, one in front for neighborly encounters, and one in the back for more quiet
outdoor time.  The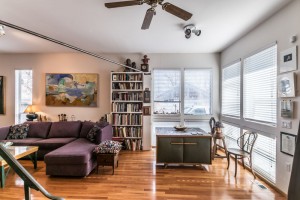 professionally-tended gardens surrounding the house are filled with flowering bushes and trees, including huge hydrangeas and a privacy wall of rose of sharon.
Despite the relative privacy of the property, neighbors are relatively close, and there is an established sense of community in the neighborhood.  People are friendly and some nearby residents, whether they rent or own, have been here for many, many years.  Despite it's rough and tumble appearance, the neighborhood is a peaceful, welcoming place to live.
The Boise River and its greenbelt are less than 50 feet away, offering paved and unpaved walking trails and a quick route to downtown via foot or bicycle.  And, Surel's Place has two bicycles for resident use, which make a trip to downtown a matter of minutes.
The home and grounds are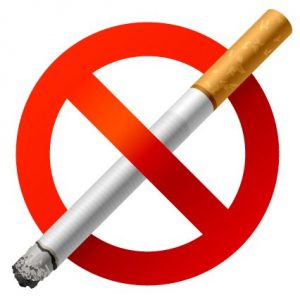 100% non-smoking.  Surel quit smoking 20 years before her diagnosis of terminal metastatic lung cancer, and because we now know how toxic smoking is, it is not permitted in or around Surel's home–not inside the house, not on the patios, not on the driveway, not in the garage, not in the gardens.  This non-negotiable expectation extends to residents and guests alike.