Our mission is two-fold: to offer artists the kind of professional support you deserve and to provide the public with interesting, accessible, inclusive, and professional art experiences, including performances, readings, exhibits, and workshops.
OUR COMMUNITY
Surel's Place believes that artists should be supported at a level commensurate to the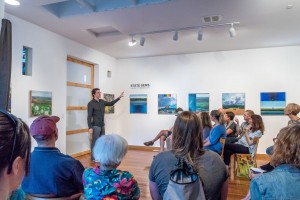 value you add to our individual and collective lives.  We aim to give you the time, shelter, and professional support your work deserves.  In exchange, we ask you to offer art experiences to our community, including biannual PARTNER SCHOOL events at local schools.
Boise values artists and their work, and as a resident, you will be valued and appreciated for the energy, ideas, and dedication that you bring to our city.
IDEAL CANDIDATES
The program is open to professional visual, literary, and performance artists:  painters, writers, musicians, architects, filmmakers, and choreographers . . . any artist who needs a place to focus.  However, because of the property's limitations and proximity to neighbors, this is not a place that can accommodate loud or terribly messy processes, such as welding, drumming, or blacksmithing.
We favor artists whose work is technically advanced, unique, attractive (need not be pretty!), and conceptually valuable.  Work that is predominantly conceptual, that must be explained in order to attract a viewer, may not be met with as much enthusiasm by our jurists.
Additionally, at least two of our ten annual residencies include events in our  emerging PARTNER SCHOOL Program, which includes outreach to local public schools–another way we do our part to serve our community.  Proposals that indicate experience with or the desire to work with school students are appreciated.


RESIDENCY ADMINISTRATION
Please note that background checks will be performed on all scheduled artists and partners.  Also, resident artists will be required to pay a fully refundable security deposit to compensate for any damage over and above normal wear and tear.
In addition, the non-smoking requirement is non-negotiable.  Any evidence of smoking on the property will be grounds for early termination of the residency.
SPOUSES & PARTNERS
Though partners are welcome to join artists, we cannot accommodate children or pets.  No more than two adults can live at Surel's Place during a residency, and thorough background checks will be completed on both occupants.  There may also be a  surcharge to cover additional utility costs.  Note that partners who desire concurrent residencies must apply and be accepted separately.
APPLICATION REVIEW PROCESS
Applications are reviewed by juries of accomplished Boise-based artists, writers, and fine arts professionals.  All applicants will be notified of decisions via email at the address they provide on the application.
THE PROGRAM INCLUDES:
one month residencies (more time may be possible, but must be justified within the application).
free rent
free utilities
free wi-fi
modest living stipend
modest travel stipend, if necessary
use of well-maintained bicycles for transportation
free or discounted tickets to art events and movies
free marketing via our website, Facebook, targeted emails, and press releases
free professional event hosting including catering, curating, and logistics.
In addition, residents will have hosts: a host will help orient residents to the community, introduce them to other artists, inform them of nearby events and opportunities, and host their public events at Surel's Place.
RESIDENCY REQUIREMENTS
Maintaining residence at the home and studio (no studio-use only residencies).
A focused use of the residency to achieve a stated goal with no other employment/work occurring simultaneously. No other employment during residence.
Visual Artists will interact with the public at Surel's Place for a  show of and/or lecture about their residency work. Writers will offer a reading and discussion session of their residency work.
All artists must offer at least one public workshop. (2-3 hours, minimal lecturing)
Visual Artists must donate one piece of art to Surel's Place for future fundraising efforts.
Writers must allow Surel's Place to publish a free-standing excerpt of their residency work in books, broadsides, posters, or other materials in keeping with our mission.
The Surel's Place commission on all sales emanating from your residency is 35%.  For ticketed events that are offsite or require contracted services, the commission is 40% and will be calculated after expenses.
APPLYING TO BE A RESIDENT:

All application materials must be electronically submitted to:
info@surelsplace.org

Deadlines:
We have two annual deadlines as follows:
September 1: For residences that occur during January -June of the following year, beginning four months after the deadline.
March 1: For residences that occur during July-November of the same year, beginning four months after the deadline.
All Applicants must be:
25 Years or Older
Non Smokers
Visual Artist Applicants must submit the following to info@surelsplace.org:
Cover Letter (an introduction of yourself that also speaks to why you'd like to be at Surel's Place, specifically)
Two Letters of Recommendation from Professional Contacts
Proposal, including Workshop Outline
Resume/Curriculum Vitae
Electronic images of 4-6 pieces of work (jpeg, 300dpi, smallest side 7″)
Image List Document (title, size, medium, year)
Literary Applicants must submit the following to info@surelsplace.org:
Cover Letter
Two Letters of Recommendation from Professional Contacts.  These letters may be sent to us directly by the letter writers or you may attach them with your other submitted items.
Proposal, including Workshop Outline
Resume/Curriculum Vitae
Electronic samples of your work in PDF format

Your name and page number in top right corner
Fiction/Prose/Script: No more than 10 pages typed, double spaced
Poetry: No more than 6 poems, not to exceed 10 pages.
Applicants of Other Mediums must submit the following to info@surelsplace.org: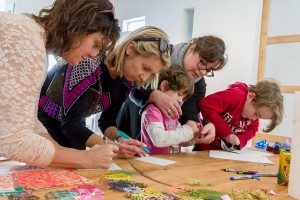 Cover Letter
Two Letters of Recommendation from Professional Contacts
Proposal, including Workshop Outline
Resume/Curriculum Vitae
Electronic Samples of your work.  (Please contact us to discuss sample requirements for your particular medium.)