FINAL EVENT PICTURES UPDATE:
Mr. Rice's final event was a hit. Click here to see pictures from the show.
ANDREW RICE moves into Surel's Place for April with plans to create installations that
use his advanced print-making and painting skills.  The studio manager for Salt Lake's Saltgrass Printmakers Studio and a printmaking instructor at the University of Utah, Mr. Rice will be working on a project that uses watercolor and a life-size mixed-media installation, using various representations of a person in a space suit, drawing parallels to the 'protective space' we often dwell within when we hide behind our digital or online 'selves'.
"These spaces provide protection, but also isolation, inhibiting access from the world around". He draws on the ideas within the poem "No Man Is an Island" by John Dunne: "we are all interconnected, part of a larger collective, or as he writes, 'a piece of the continent.' We have created spaces and safe havens from the harsh world around us that encourage this reciprocal community."
With a Master of Fine Arts from the University of Utah, Mr. Rice has exhibited his work widely at venues including SaltGrass Printmakers, Rio Gallery, and the Printmaking Center of New Jersey.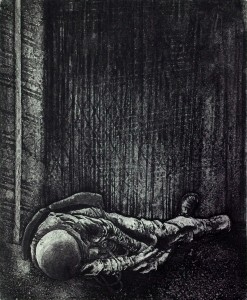 ---
PUBLIC EVENTS:
WORKSHOP:
PRINTMAKING WITHOUT THE PRESS
Saturday, April 18 | 1pm-4pm
$20 materials fee | limited to 10
scholarships available: info@surelsplace.org
registration required
In this three-hour workshop you will be introduced to the bold and graphic medium of printmaking. Printmaking has a long and storied history as a medium tied to political and social change. Relief printmaking is the most direct and visceral of the 4 major techniques. Carving directly into the matrix to create your image, it is both immediate and time tested. It has been used across cultures and societies throughout history to spread knowledge and information. Come spend an afternoon learning how to create your own relief prints safely and with non-toxic materials.
---
EXHIBITION & ART TALK: SPACE(S)
Friday, May 1
6:30pm-8:30pm | Art Talk 7:00-7:45pm
free
All events at SUREL'S PLACE
212 E 33rd St | Garden City, ID