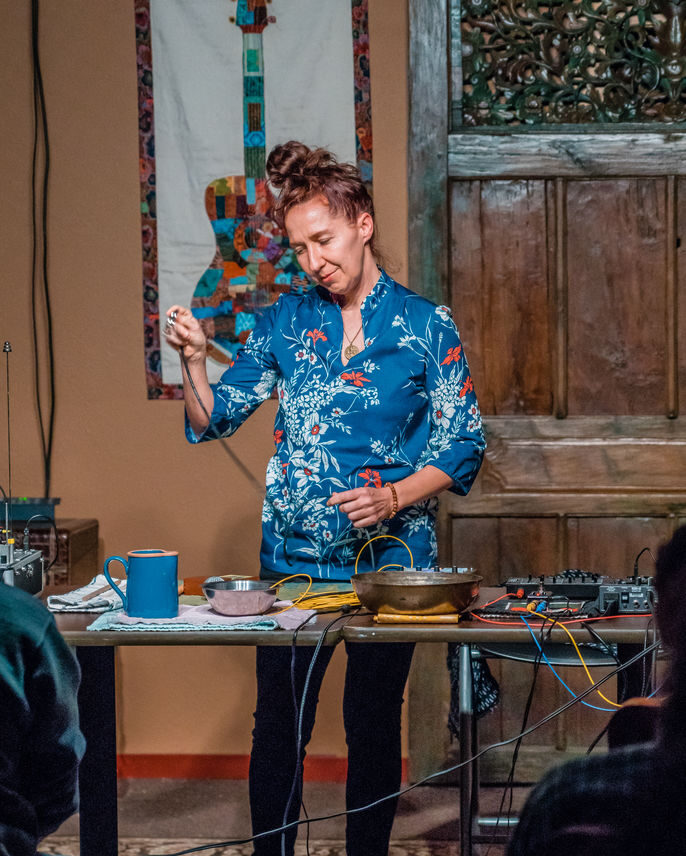 Sound
Gretchen Jude
(Honolulu)
Artist Website
Artist-in-Residence
May
Residency Year:
2017
Biography
Gretchen Jude came to us from Honolulu although she was born and raised right here in Idaho. "This is really an extra special residency for me," said Jude. "Being able to come home as a guest artist. I am really looking forward to all the possibilities, and finding out what surprises may be in store as well."
Improvisatory interaction with the immediate environment forms the core of Gretchen's musical practice.  In this residency period, Jude created a composition based on field recordings that she made at two primary sites: the Minidoka Historic Site—formerly the Minidoka War Relocation Center, where nearly 10,000 Japanese-Americans were confined during World War II—and Gooding, Idaho, where her father was born and given up for adoption in 1945—exactly the same time period as so many Japanese-Americans were incarcerated less than 70 miles away.
This work was featured in her final performance at Audio Lab. In this work, she made present and concretely audible social conditions and events that may have been shelved as 'history'. Jude hosted two workshops teaching Deep Listening, which is a set of methods devised by composer Pauline Oliveros (1932-2016) to promote "listening in every possible way to everything possible to hear no matter what one is doing." In these workshops, she lead participants on a soundwalk around the neighborhood and along the Boise River.
Jude has been heard across the globe, from Helsinki to Seoul, and she has studied a variety of performance practices, including: music improvisation, vocal technique, Japanese musics (nagauta, hauta and jiuta shamisen, voice and koto) and electronic/computer music and sound art. She holds an M.F.A. in Electronic Music & Recording Media from Mills College.
Gallery