Visual
Roxanne Everett
(Seattle)
Artist-in-Residence
January
Residency Year:
2023
Biography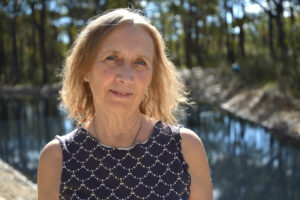 Everett is landscape painter with a winding forest path of a background. She trained as an architect at the University of Idaho but after several years in that industry returned to school to earn a graduate degree in forest ecosystems management. Working as a National Park Backcountry Ranger for months at a time in remote and sublime locations allowed her to realize how pristine environments were being altered either through human neglect or through bigger problems like climate change.
"My work is ecosystem based," she says. "I paint the natural/native vegetation including vistas, endemic plants or animals and often address things that threaten the area. … My goal as a painter is to transport viewers into places they may value, awakening their own previous relationships to the land or inspiring further stewardship. With increasing frequency of large scale disturbances like fire or climate change, these paintings also serve as future documentation for what we see today and may act as a catalyst for greater care toward our fragile natural resources."
While at Surel's Place, Everett is working on a series of paintings that reflect the grasslands, woodlands, riparian ecosystems and open canopied forests of Southern Idaho. These paintings include both large scale landscapes and individual species' studies. She spends time outside daily to make entries in her sketchbook and to take photos — many right along the Greenbelt near Surel's Place. Several workshop participants were able to join her, some pictured below, during this exercise last Saturday for "Sketching on Location." These reference materials are used in the studio to create larger paintings. Some ecological study was a part of this process in order to focus on representing the Southern Idaho ecosystem, e.g. painting native plants and not exotic ones.
Gallery